"Be a Guest at Your Own Event"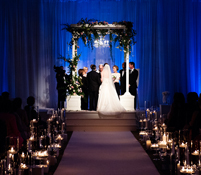 Helene & Company, Inc. provides full-service event planning and management. Specializing in weddings, bar and bat mitzvahs and special events - both corporate and social. Helene & Company, Inc. is known for their attention to detail and for their ability to make the hosts feel like guests at their own celebration.
Since 1995, Helene has assembled a vendor list that features the best and brightest chefs, designers and musicians to ensure an unforgettable experience.
Let Helene put you at the top of your guest list.
Learn More